How can I check the wiring of my b-box 2? Check the Internet cable connection between the telephone jack and the blue DSL port on the modem.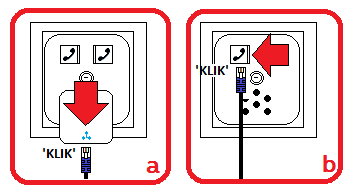 Figure a: If your phone jack is equipped with a filter, plug the supplied black cable with blue end (or the blue cable) into the bottom of the filter.
Figure b: If you have not been provided with a filter, open the small clip with the telephone icon and plug in the black cable with blue end provided (or the blue cable).
Check the power cable connection between the power outlet and the modem. The modem switch must be in position I (the B-Box 2 on/off switch is located on the front of the modem).
Check the connection of the Ethernet cable between one of the yellow LAN ports of the modem (if you have a B-Box 2 modem, the PC1 or PC2 port) and the Ethernet port of your computer. Caution! If you have a grey Sagem modem, one of the LAN ports is on the back of the modem and the other on the side.
Do you also have telephony? Make sure your phone is connected to the green Phone1 output on the back of the modem.