Scarlet Trio Mobile
+ +
Internet, digital TV, and a GSM subscription combined in the cheapest Trio Mobile pack in Belgium.
Free installation and activation (€79). The installation by a technician (€50) and the line activation (€29) are offered. It's the time to switch to Scarlet.
More info
Internet, TV & GSM subscription
With Scarlet Trio Mobile, combine internet and TV digital and a GSM subscription at the best price of the market while taking advantage of the quality of the network Proximus. Why pay more?
Scarlet Trio Mobile
Unlimited internet
Digital TV
GSM subscription with 6 GB, 600 min. of call
and unlimited SMS
Free installation and activation
Au lieu de

(€79)
€50 /month
Personalise this pack
Call for free via 0800 84 000
The cheapest pack in Belgium combining fixed internet, digital TV and mobile telephony according to the comparison site of the Belgian Institute of Postal Services and Telecommunications (www.bestetarief.be)Opens a new window . Statement From 11/07/2023, offers excluding promotions.
Switching to Scarlet with peace of mind thanks to the quality of the Proximus network
For an optimal experience at home or on the road, Scarlet relies on the quality of Proximus' internet and mobile network.
Scarlet! Why pay more?
Your GSM subscription
6 GB
On the best mobile network, the Proximus network.
600 minutes of call time
An important story? Don't miss a beat.
Unlimited SMS
Endless conversations with your loved ones? No problem.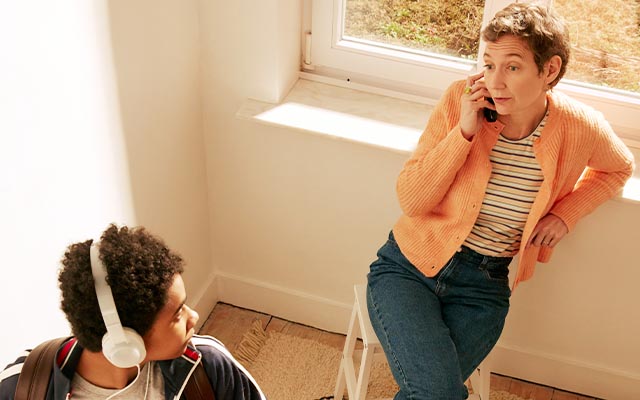 Surf without counting. Your modem is included.
Surf, watch videos and play online games simultaneously without worries.
Send large files at full speed.
Discover all available channels
Choose the very best of TV. Discover the complete TV offerings by region.
TV options
Don't want to miss a show or a movie? These options are for you!
Add TV channels to your basic offering. You have the choice between sports channels, children's content, crime films or a maximum of documentaries.
Watch your TV programs live or recorded with the TV Replay option.
Choose your installation method
Save time with our quick installation kit! Receive your equipment directly at your home and install it easily with our instructions.
Quick installation kit
Equipment delivered in 2-3 working days
Installation in 30 minutes
Need a helping hand? Call an expert for free guidance
Installation by a technician
Receive a visit from a technician
Equipment installed in an average of 10 days
Relax, our expert takes care of everything. You don't have to do anything!
GSM subscriptions
Our Red, Cherry & Hot subscriptions offer you everything you need: data, calls and SMS, all at a low price! Really, no more and no less than what you need.
Internet subscriptions
Want a fast and efficient internet without breaking the bank? Bingo. Scarlet offers you the internet that meets your needs at unbeatable prices.
More information about the Scarlet Trio Mobile pack
---

---

---

---

---

---

Rent extra HD decoder(/month)

To order, you must have the following information at hand: your ID card number. If you want to keep your current number, you will also need the following details:

Your customer number with your current operator (usually mentioned on the invoice) if you want to keep your current number
Or your current operator's SIM card number (mentioned on the SIM card).

If the SIM card number is no longer legible, you can find it on the documents you received with your card. Usually, your SIM card number can also be retrieved on your current operator's online customer environment. If not, get in touch with your operator to obtain the details.

If you have a smartphone, you can find it as follows:

iPhone: go to your phone settings and search for "ICCID." Then take the last 13 digits.
Android: you can find apps on Google Play to retrieve them. Be sure to choose an app with a good rating and positive reviews.

Agreement of indefinite duration. To enjoy scarlet Trio you must have access to the VDSL network. The availability of HD content depends on your installation and the HD range in your region.
*Scarlet Trio Mobile promotion: Installation by a technician worth €50 and activation worth €29 are free. Promotion valid from 11/07/2023 to 01/11/2023 for any new subscriber who subscribes to a Scarlet Trio Mobile subscription. Valid for all new Scarlet customers and existing Scarlet mobile or internet customers wishing for a Trio Mobile pack. 

1. Unlimited surfing. Scarlet's internet services are for private use only. The download speed is limited to 3 Mbps once you exceed a surfing volume of 3 TB per month. This speed is sufficient for surfing the Internet, for standard e-mail use and video streaming⦠When you reach 3 TB, you have the option to order extra surfing volume via the Comfort option for €5 per month. This allows you to consume up to an additional 1 TB without speed limitation.
2. Calls and texts from Belgium to the EU are not included in the subscription and are charged according to the international rates. Unused calling minutes, texting and MB will not carry over to the next month.
The minutes, SMS or GB included in the subscription or in the "additional mobile internet" and the "unlimited calls to Scarlet Mobile" option, as well as the extra-bundle rates per minute, SMS or GB, with the exception of special numbers (090X, 070, calling games,...) are valid in Belgium and in the European Union (roaming) to all fixed and mobile networks (078 numbers included).
Charge per second from the first minute. The use of data via 4G, 3G, EDGE or GPRS is charged per KB. All prices include VAT.
Offer reserved for normal private use as described here.
3. The specified speeds depend on the distance between the connection point and the telephone exchange, on the home installation and on the interior cabling.